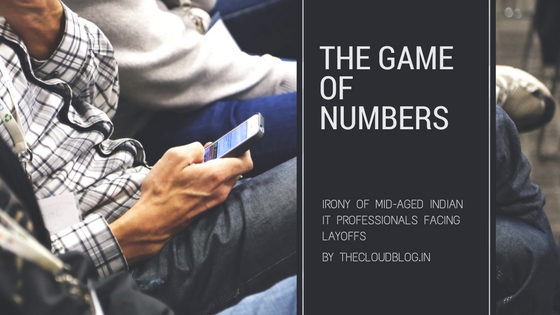 "While the world sleeps, destiny plans the next move to take". This quote seems so true for all middle aged Indian IT professionals in the current layoff situation. Internet, newspapers and other communication mediums are flooded with info related to IT professionals in India being laid off. The cause of this situation is actually the IT professionals themselves. They didn't keep up with the changing scenario in the technology world. The buzz words "Big Data", "IoT", "Automation" were everywhere but most of the IT professionals ignored them, especially the middle-aged IT professionals. The destiny was planning the next move in this fast changing industry, but the professionals were busy in drinking beer, watching movies, shopping in malls. They could not figure out the storm coming their way. Now, as the storm has struck, there is no way to run but succumb to the destiny.
The game of numbers
"Greed" is the next main driving factor against all these layoffs. Indian IT companies are facing a lot of pressure to maintain their balance sheet and P&L statements and show profitability in the coming quarters. In the current situation, it has become very difficult to keep up with the projections shown to investors. Getting new projects in today's scenario has become a herculean task for the Indian IT majors. Moreover, the big companies in US, UK, Australia are themselves looking for new ways to increase profitability in terms of Automation, Robotics, Data Analytics. As they themselves are discovering new ways to enhance their profits, so there is no point generating new work for Indian IT majors. Clearly, there is a cycle of increasing the numbers going on which is having adverse effects on the Indian IT sector.
Can Indian IT professionals fight them off?
It is very unlikely that Indian IT professionals can fight with the companies like Wipro, HCL, Infosys, Accenture etc. Indian IT professionals do not have any umbrella from Indian government to protect their interest in such situations. Being a major contributor to India GDP, Indian IT companies do have many privilege in terms of tax breaks, but there are no privileges to the professionals who work for these majors.
Reason for huge number of Indian IT professionals layoffs
The number of layoffs may be huge in comparison to what has been projected. This will be due to the widespread panic in the industry. The companies who didn't have planned for it, will start planning for the bad days ahead and may start laying off. There will be few companies who will take this as an opportunity to lay of few employees whom they wanted to layoff but due to different reasons were delaying their decision. The pressure will mount on the employees who will be retained as the tasks performed by the laid off employees will be distributed among them. There could also be layoffs if the productivity of employees goes up. Increased productivity is clearly visible and will work as a deterrant for few employees but opportunity for employers. Such kind of situations usually create a cycle which doesn't end easily and result in mounted numbers.
Check if you have prepared well in advance
If you are financially secure with no EMI and less monthly expenses, then you can consider yourself prepared well in case of any adverse situation.
But you will find very few people who are well prepared for such a situation as most of them in this age have Home Loan EMI, Car Loan EMI and School fees as mandatory monthly expenses. The situation will be critical for those who get laid off with high monthly commitments.
In case, you are not prepared well, then you need to become emotionally strong and have to possess a strong will to transform yourself to get out of this situation.
How to prepare for the coming layoff wave without being hurt?
Now, the question arises if you can survive this layoff wave without being hurt.
Yes, you can do it with your mental strength.
It is evident that the trend will continue and a lot many professionals will have to face this difficult truth. If we can evolve and learn the new technologies around and prepare our self for the new opportunities, then we still stand a golden chance. It will not be an easy shift but will be the only chance to stay in the race. We need to fight with our full strength and face off the situation like a winner.
For a mid-aged professional, it is not easy to learn the new technologies like IoT, Data Analytics, Robotics or Automation. In case if you feel like not getting into new technologies, then its important you look at the alternates available as per your interest & passion. One thing is for sure, there are very less areas where you could earn your bread & butter in a short span of time.
I am trying to list a few areas which you can explore to use your current knowledge. Choose them as per your interest & passion and don't expect to get the returns in a short span of time. You also need to be prepared to work hard to succeed in these areas. Just imagine if you have started as a fresher who need to get through difficult APIs before having the final code is ready. Also make sure that you take a wise decision while selecting the alternate career.
1. Blogger
You must have been to multiple blogs on the internet to get different kind of information and thought if you could find time then you will start writing yourself. If you think that this is something which is your cup of tea, then don't think twice but start honing your skills to take on the world. There was a time when newspaper was the only medium to get your voice across. In this information age, your audience is not too far; just need to have that bent of mind to reach them. "Pen is mightier than sword" is changing to "Keyboard is mightier than the nuclear bomb". The recent ransom ware attack is the best example which shows the power of keyboard. So, don't shy away from your interest and start writing.
2. IT Trainer
Are you inclined towards making the next generation ready? Then Trainer could be your alternate profession. Although, there is high demand for the new technologies, but the basics of computing have still not died. Even today, every computer student need to learn the basics before they could move ahead to learn the advanced technologies. A lot of new schools/colleges are getting
3. IT Consultant
A little difficult field to choose as you need to have good contacts before you could be hired as an IT consultant. If you see yourself providing services to big corporate as independent IT consultant, then be ready for a long wait. The most important skill here is networking which should be your forte. You need to be passionate about making contacts especially with the influential people. You also need to be ready to explore every area which
4. Social Media Marketer
Lately, this has also been a key area for the big companies to indulge IT people. Internet has become today's TV. The advertising on internet is considered more important than TV channels. It proves how important internet is for these companies. Similar to advertising, social media portals also needs to be flooded with companies information. This has also been considered a well known skills where IT people with marketing skills are getting involved. If you think that you have developed marketing skills in your career in terms of Presentations, RFPs, SOP etc. and this excites you more than other fields, then you can plan to get into this.
5. SEO Expert
A technical field where you need to understand how search engine works and how to beat them to bring your rankings to the top. An exciting field but difficult to get assignments. It goes perfect in combination with Blogging, as bloggers need to make themselves visible on internet.
Today's situation is definitely not a good one, but this is something which mid-aged Indian IT professionals are going through.  It's time to create a personal action plan similar to the one which you created for your projects.
Latest News on Layoffs in India